PDF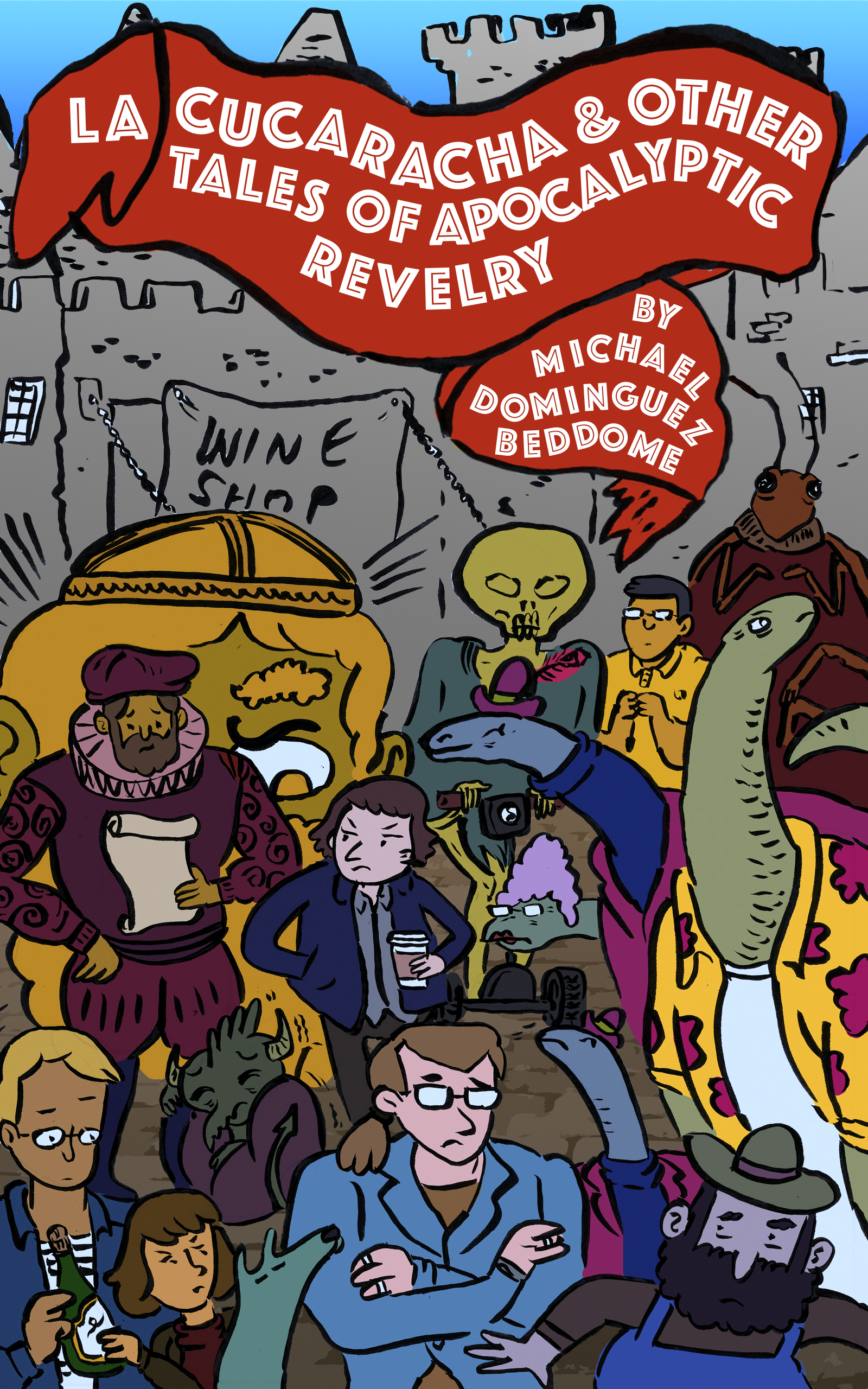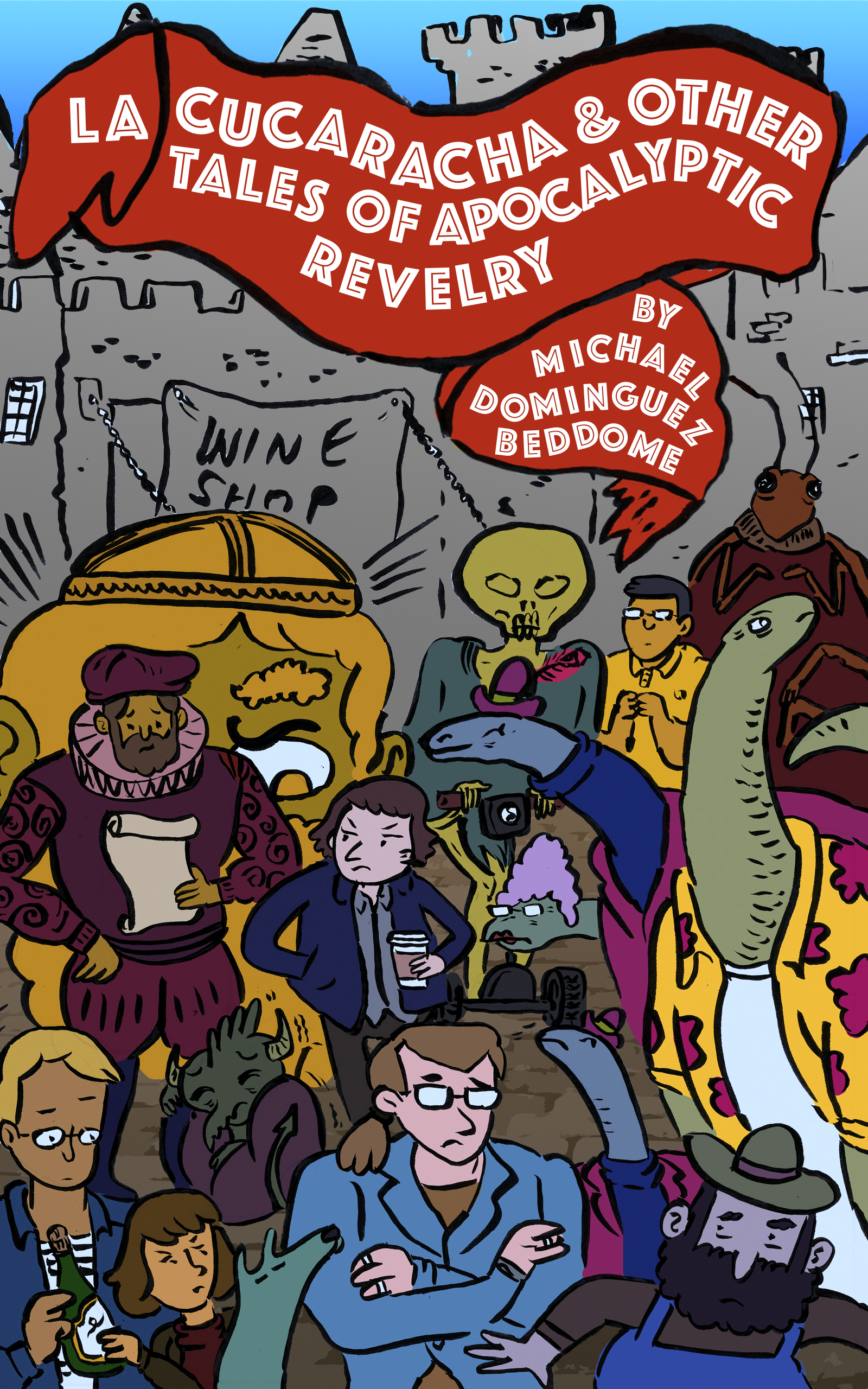 PDF
POP QUIZ — CAN YOU SPOT WHAT THE FOLLOWING HAVE IN COMMON?
Extinction events. Disease fueled genocides. Live Burial. Zombie hordes and cannibalism. Hurricanes. Nuclear war. Starbucks.
Come along and follow the multi-national cast of characters of "La Cucaracha & Other Tales of Apocalyptic Revelry" (by author Michael Dominguez-Beddome) as they attempt to overcome world-ending turmoil in a hilarious tongue-in-cheek take on armageddon. These stories will have you laughing out loud or facepalming in disgust.
"Explosive Tantrums and Birthday Fiascos" - An Alamosaurus dad wants to surprise his five-year-old kid with something special for his birthday, but Mom and Grammy have other plans. Will Dad get them all to the beach in time for Epoch Chopra's explosive concert or will this birthday be a dud?
"La Blancocabra" - The Chief of the Mayans decides to heed the prophecy of the coming pale travellers and has his royal Vizier organize the biggest party the Yucatan has ever seen. Will Hernan Cortez outrun the Cubans and make an entrance with his conquistadores? Will the Aztecs poop on this party? Can the Vizier get the Chupacabra petting zoo arranged in time? And what will become of the escaped prisoner of war fleeing back to the Nahua city?
"Posthumous Remarks From A Live Man" - Not all that glitters is gold, but some phoney diseases appear to be fatal. Mister Henries is on his deathbed with a terminal case of Hypochondria when a scruffy man with a unique Plan B kicks in the door to interrupt his Last Rites. What could this strange man do to save the day when time is running out?
"The Ways To Make Gemütlichkeit, or: Foodie and the Beast" - What do you get the man who has everything? Revenge best served cold! Vongrüber Gemütlichkeit is a self-proclaimed hobbyist, hellbent on getting revenge for his sister's zombie attack when they were children. Now accepted into society with the help of some stringent pharmaceuticals, the Zeds seem no more a threat to people than a well-mannered puppy. But Vongrüber is not one for acquiescence... not when he's been cooking up his plan for twenty plus years.
"SuperMarkt" - Gerald and Meredith live on the riverfront in New York City when Hurricane Sandy comes roaring into town. The unending line at their local grocery and the ransacked store shelves prove problematic when all they need is some food and drink... to host the best damn hurricane paella party Long Island City has ever seen! When everyone else is taking cover, what does Meredith find on the other side of the porthole? What does Gerald discover on the fourth floor? And why do I hear strange polka music on the wind?
"Harrison's Interesting Adventure" - Harrison, a blogger, yuppy, and friend to cats everywhere, is confronted by God outside of a Chicago area Starbucks with one simple command. Is Harrison willing to undertake God's plea?
"Pearl Harbor 2: Pearl Harborer!" - A disheartened Navy man finds himself topside on deck with the Grim Reaper, when the Four Horsemen come calling for the souls of all humanity. For a man who's used to asking permission for even the most basic things, and constantly obeying humiliating orders, the concept of the Rapture suddenly doesn't seem so bad...
"La Cucaracha: Origins" - As some unseen explosion appears to plunge New York City into nuclear winter, Lucha Racha the Cucaracha finds himself navigating an empty Manhattan while the mercury continues to drop. Well... mostly empty...